Opening your first business when you haven't done anything like it before is very scary. Elizabeth is a professional in every way and was able to help me break the huge project up into small manageable pieces. This created momentum and I was able to track my time and progress in a meaningful way. As she helped me through writing my business plan it became clear that I wasn't going to be able to do everything myself. Elizabeth was critical in helping me identify the areas of my business that I needed help with. Furthermore, she helped me find the people to make my dream come true. I can't overstate how helpful Elizabeth was in making Halifax Buy and Sell a successful business with 2 profitable locations and a third in the making.
Casey Gallant, Owner, Halifax Buy and Sell
---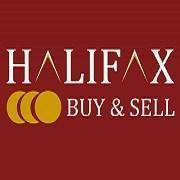 Halifax Buy and Sell is the only pawn shop in Halifax that has a certified watch, diamond, coloured stone, and gold buyer. This benefit, in addition to a convenient location in the welcoming Hydrostone area, make visiting us a great experience. Whether you are looking for a treasure or a great deal, chances are you can find both at Halifax Buy and Sell.